Open Meeting for Men and Women. Christmas Eve 12-24-2018 and New Years Eve 12-31-2018 @ 8:00 P.M.. Livengrin Rehab New Bldg. When you first drive in on the left., 4833, Hulmeville Road, Bensalem PA. 19020

No meeting. Lunch Break Al-Anon Group, located at 597 W Valley Forge Road, KOP will not meet on Tuesdays - December 25 and January 1.

No meeting. STRENGTH & HOPE AFG • at 8 PM . on 12/18 and 12/25 and 01/01. St. Rose of Lima Church, 1901 Chester Pike, Eddystone 19022 . Lwr. level side door. D-5

Due to church services, the Monday night One Day at a Time West Grove meeting will be cancelled 12/24 and 12/31.

No meeting, Tuesday Morning Manoa AFG for Christmas Day and New Year's Day.

No Meeting Rose Tree Media Monday Night Al-Anon on 12/24/2018 @ 7 pm Beginners and 8 pm Al-Anon meeting, Reformation Lutheran Church, 102 W. Rose Tree Road, Media, 19063. District: 5

No meetings. Warminster Beginner's Meeting. 3 Cancellation dates of Meeting . 12/11/18, 12/25/18, 1/1/19 @ 7:30 - 9 p.m. Abington Health Center, Warminster. 225 Newtown Road. Warminster 18974. District: 20

No meeting, Glenside/Willow Grove AFG, 12/24/2018 @ 8:30pm. St. Peter's Church, 654 N. Easton Road, Glenside, PA. 19038 District:3

No meeting. Havertown Monday NIght, Christmas Eve meeting cancelled, 12/24/2018, 8:00 pm. Trinity Lutheran, 1141 West Chester Pike, Havertown, 19083. District:4

No Meeting December 24th @ 7:00pm and 8:00pm. Malvern Line Road AFG, 89 Line Road, Malvern 19355 District:7

No Meeting, Genesis Al-Anon Family Group, December 24th @ 7:30. St Paul's Lutheran Church, 301 N Main St. Doylestown PA 18901

No Meeting Focus on Recovery Group Meeting, 12/25/2018 and Jan 1, 2019 @ 12 noon. Lima United Methodist Church, 209 N. Middletown Road, Lima, PA 19063 District:5

No Meeting One Day at a Time on holiday 12/25/2018 and 1/1/2019 @ 7:30 PM. Good Shepherd United Methodist Church, Chalfont & Calera Sts., Philadelphia 19154

Get Busy to Get Better

Al-Anon and Alateen members are needed to help reach people suffering from the family disease of alcoholism. Typical service opportunities include sharing with families or professionals (medical, educational, legal) or handing out literature and answering questions at health fairs and conferences. More info: InstitutionAl-AnonMeeting.pdf

Get Involved!


Public Outreach Tools

There are literally hundreds of different ways that Al-Anon members work to get the word out to those still suffering from the family disease of alcoholism. The items below were developed by AISDV.

Public Outreach Posters










The success of District 7's Annual Fall Workshop,
along withsupport from AISDV, combined to make this
public outreach rail poster program possible.


To help promote Al-Anon/Alateen in our community, these posters were developed for use in churches, libraries, grocery stores, or anywhere there is a public bulletin board. There are multiple versions to choose from. It is suggested that you cut the lines between the tear-offs at the bottom (and optionally - tear off the first one) before posting. Included are 4 Alateen posters. Click on the thumbnails to access the full sized versions for printing.

Would you like to become an AMIAS?

Al-Anon Member Involved in Alateen Service (aka 'Alateen Group Sponsor') More Info

A Radio Interview

Chester County AFG members share their experience, strength and hope in an interview with an internet radio station in this audio clip. Listen by downloading onto your computer and from there to your MP3 player or a smart phone.

Audio Segment 1 Audio Segment 2

The questions used for this interview were adapted from Media Interview Questions developed by WSO and available - along with other helpful materials - at the Al-Anon Media Center.

Public Service Slides - Movie Theater Advertising

AISDV, in conjunction with District 4 (Bryn Mawr Film Institute) and Districts 20 & 32 (Colonial Theater) has run these slides before movies. This is a great way to reach out to the community.

Other Advertising

In 2010 and 2011, respectively, AISDV ran advertising on SEPTA Regional Rail and local busses. The ads were developed from a public outreach bookmark developed by WSO:

Other tools

AISDV split the cost of vinyl banners with a number of Districts in 2011 - do you know where yours is? These are great for use at health fairs and other public events.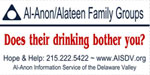 Another tool that AISDV has developed are business cards. These are very cost-effective outreach tools that can be given out to newcomers without worrying too much about how many we can afford to distribute.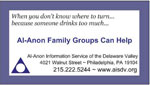 Outreach to the Media

Would you like to help get information about Al-Anon published in your local paper? From getting your meeting listed in the calendar section to providing articles on the family disease, there are many useful resources in WSO's Al-Anon Media Center.

Try to tie together timely events (holidays, news items, etc.), trends and statistics with localized information to maximize the impact of your efforts.